State Rep. Travis Clardy will be representing Panola County if a draft redistricting map released Thursday by the Texas House is approved.
Clardy, R-Nacogdoches, currently represents Rusk, Cherokee and Nacogdoches counties.
Texas House members on Thursday released the first proposal for a new map redrawing the chamber's 150-member districts. The initial draft would increase Republicans' strength across the state and the number of districts in which white residents make up a majority of eligible voters.
House Bill 1, authored by Corpus Christi Rep. Todd Hunter, the GOP chair of the House Redistricting Committee, is just the first draft, and it will likely change as it makes its way through the legislative process before it's signed into law by Gov. Greg Abbott.
State Rep. Chris Paddie, R-Marshall, announced Sept. 22 he would not seek re-election, saying the timing was right to "spend more time with my family and allow my East Texas colleagues to spend time fighting for our values instead of having to make some of the tough choices required in the redistricting process."
Paddie's district of Shelby, Sabine, Cass, Harrison, Marion and Panola counties is broken up in the proposed map.
Under the proposal, State Rep. Jay Dean's District 7 would include Gregg, Harrison and Marion counties.
Shelby, Sabine and Panola counties are moved to District 11, represented by Rep. Travis Clardy, R-Nacogdoches, and will join Rusk, Nacogdoches and Newton counties. Clardy would lose representative of Cherokee County.
District 1 Rep. Gary VanDeaver, R-New Boston, would represent Cass, Bowie, Morris, Red River and Lamar counties.
Upshur County would move from Dean's district to State Rep. Cole Hefner, R-Mount Pleasant, who also represents Rain, Wood, Titus, Camp and part of Smith counties.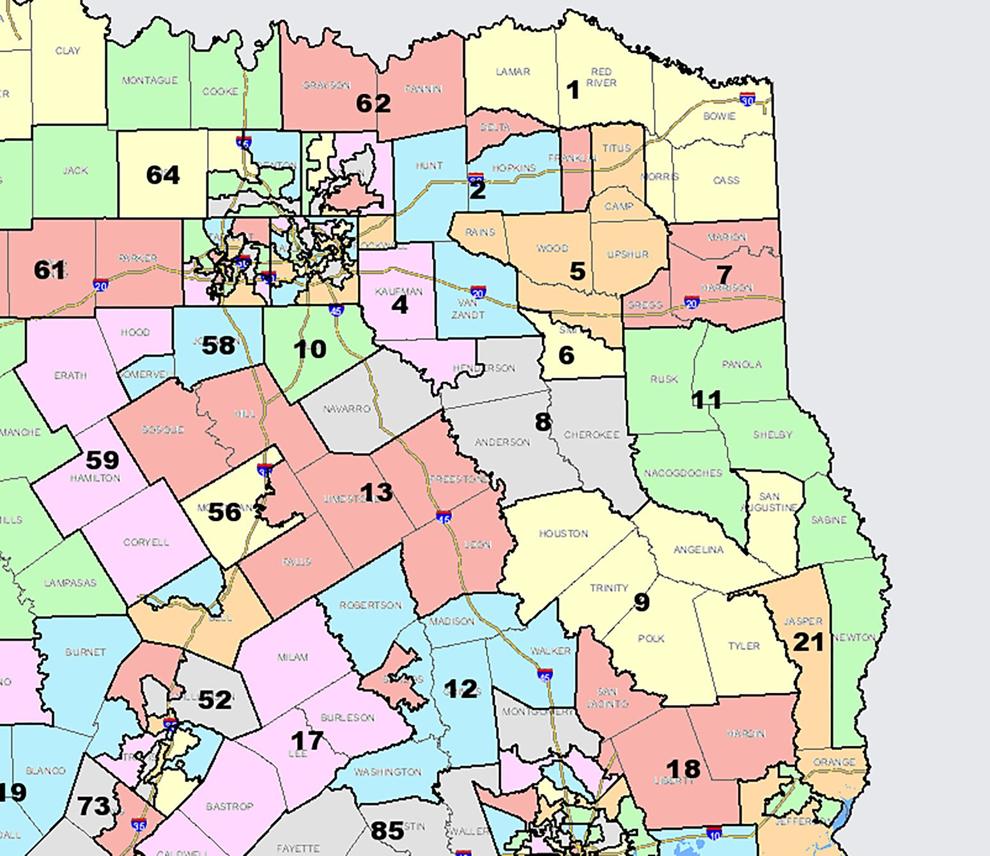 Clardy is an attorney from Nacogdoches who was first elected to the Texas House in 2012. He describes himself as a life-long Republican.
In the House, Clardy has served as a member of the Higher Education Committee and the State and Federal Power and Responsibility Committee. He has received recognition from the Texas District and County Attorneys Association for his work relating to prosecution for the manufacture and sale of dangerous synthetic drugs.
He is a graduate of Abilene Christian University and the Pepperdine University School of Law. He has served on the East Texas Boy Scouts' executive board, was a Paul Harris Fellow with the Nacogdoches Rotary Club and is a member of the Dean's Circle for the Stephen F. Austin State University College of Fine Arts.
On Friday, Clardy announced on his Facebook page that he would be running for re-election.
"I have decided that I will be and am hereby officially announcing my desire and intention to run for re-election for State Representative for House District 11," he said.
Clardy said he wanted to continue working on a number of issues across the board that are important to East Texas: the educational system, teachers, retired teachers, roads, transportation, healthcare, the border, protecting life and standing up for Constitutional rights.
"I'm proud of what we've done this past session and proud of the work I've done as your state representative in House District 11 and looking forward to doing that again should the good folks of East Texas send me back," Clardy said.
The Texas Legislature is in the midst of its third special session. This one is dedicated to redrawing political maps based on the latest census data that showed people of color fueled 95 percent of Texas' population growth over the past decade. The percent of Hispanics is now nearly equal to white people.
But, the new map creates fewer districts where Black and Hispanic people make up a majority of eligible voters. Black and Hispanic Texans make up two racial groups that along with Asian Texans outpaced the growth of white residents in the state over the last decade.
Eighty-three of the chamber's 150 districts are areas in which white residents make up a majority of eligible voters; 33 are districts where Hispanic voters make up the majority, while Black residents are the majority of eligible voters in seven districts.
Under the new proposal, the map adds six more districts where white residents make up the majority of eligible voters while the number of Hispanic and Black districts would each drop by three.
The proposed map would also change the partisan breakdown among the 150 districts, tilting the scale toward Republicans.
Currently, there are 76 districts that went to former President Donald Trump during the 2020 general election while 74 went to President Joe Biden. Among those, 50 districts voted 60percent or more for Trump, — indicating the district is safely Republican — while 40 districts had more than 60 percent support for Biden — indicating strong Democratic support. Under the proposed new map, 86 districts would have gone for Trump, while 64 would have went for Biden. The number of districts that voted 60 percent or more for Trump or Biden would be tied at 46.
This is the first time in decades federal law allows Texas to draw and use political maps without first getting federal approval to ensure that they're not violating the rights people of color. That federal preclearance requirement in the Voting Rights Act was gutted by the Supreme Court in 2013.
Since the enactment of the Voting Rights Act in 1965, Texas has not made it through a single decade without a federal court admonishing it for violating federal protections for voters of color.