The Carthage Main Street Youth Advisory Council is hosting a film festival on Feb. 1, and will continue accepting submissions through Jan. 15.
The Youth Advisory Council is made up of teens from all over Panola County, and they do a project every year. This year they decided on the film festival.
"They wanted an event at the Esquire," Main Street Manager Cindy Deloney said. "They've done a movie there before, but they really wanted something bigger, something that they could build on. So this was a good fit, and so they started researching and came up with all their rules and everything, and it's going to happen fast, but we've already got quite a few submissions. We need more though... we're just getting started on sponsors; they need sponsors so they can do some good prize packages for the people."
The Youth Advisory Council is chaired by Carthage High School senior Mary Katherine Smith, and Carthage High School senior Rhett Goldman is leading the committee on the film festival itself.
"This year we decided to do a film festival because the Esquire's been renovated pretty recently, and we've been showing films there, and so we were like, 'What better way to really show off the history and encourage the arts around here than to have a film festival?'" Smith said. "We put together a committee; that's really headed by Rhett Goldman, and as the chair I'm kind of just overseeing that, and I work for Cindy so over the past couple of months we went up there and I started kind of looking into how to put together a film festival and what the best mechanisms were."
Smith is passionate about filmmaking, saying it was great to be a part of this project that will hopefully inspire others.
"To really be able to be a part of something that encourages other filmmakers and encourages other people to find their passion and to submit what they fall in love with and something that means something to them, because that's what a short film is, is basically bearing your soul out to someone," she said. "You're being real and honest and portraying something through a story.
"It's really a great feeling to be able to be a part of something, and especially the first in our community, hopefully starting something that inspires local artists."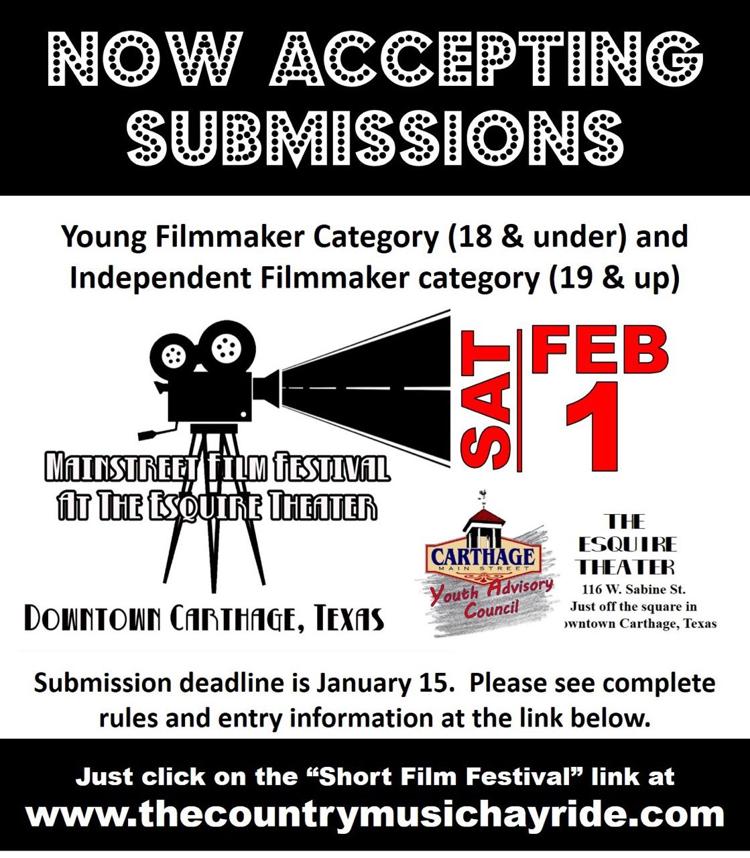 The film festival will offer cash prizes to winners, and any genre or type of film is welcome as long as it is family-friendly. There are two categories — Young Filmmaker, for those 18 and below, and Independent Filmmaker, for those 19 and older. There are certain requirements for the films being submitted, which are:
Films must be at least three minutes long and no longer than 25 minutes.
Films can have been completed at any time, and filmmakers can submit more than one entry
Submissions mean filmmakers have granted permission to screen their film if selected for the 2019 line-up
Selected films will be shown Feb. 1. Filmmakers will be asked to provide a digital press kit containing a head-shot, filmography, black and white stills from the film, and a video trailer.
Finalists must be present at the festival to win a prize, although organizers said they would accept a representative of the winning film if "he/she played a major role in the film's production and we are notified at least 1 week in advance of the festival."
Films should be submitted on FilmFreeway.com.
Deloney said she's proud of the kids on the council who have worked to get this together.
"They've worked really hard, and I hope that everybody understands that this is something that we want the whole community to come out and support these young filmmakers and support the Esquire itself," Deloney said. "It'll be a really fun night celebrating these young filmmakers, and we're not just doing — The awards are also gonna be for acting in the films, so if everybody can come out and support all of them in the art form that they're doing, that would be amazing."
The film festival is an opportunity for people to express themselves in art.
"More and more people can do these documentaries and these short films and things and express themselves through that because of the technology that we have now," Deloney said "... So it's a changing, evolving, quickly growing art form, and so I think it's a lot of fun for these kids to have a place to showcase their work and get to see it on the big screen."
Some of the submissions have been from people out of town, which will bring business to the community, Deloney said.
"We're excited about that, because if they do make it into the top they do have to be here, so getting people to come in from out of town is always a plus, and spending their money in our community, that's always a plus," she said. "Hopefully we can grow on that, and then as far as the local people that are involved that are doing their submissions like I said, it's just another great art form to support."