Editor's Note: This post will be updated as needed throughout Saturday.
7 p.m.: A tornado warning has been issued for a small portion of northwest Panola County near Tatum through 7:45 p.m.
A tornado watch has also been issued for Panola County through 2 a.m. 
6:42 p.m.: The National Weather Service has issued a severe thunderstorm warning for Panola County through 7:45 p.m.
9:33 a.m.: Severe weather is expected to hit Panola County and the surrounding region late Wednesday afternoon, the National Weather Service said.
"Thunderstorms will gradually increase in coverage mid-morning through early afternoon with severe thunderstorms expected to move in during the mid- to late- afternoon through evening hours as a potent atmospheric disturbance approaches," a hazardous weather outlook issued Saturday said. "Damaging winds are expected to be the primary risk as one or two squall lines move through, although large hail and tornadoes will also be possible, especially with any isolated severe thunderstorms that develop away from squall line activity."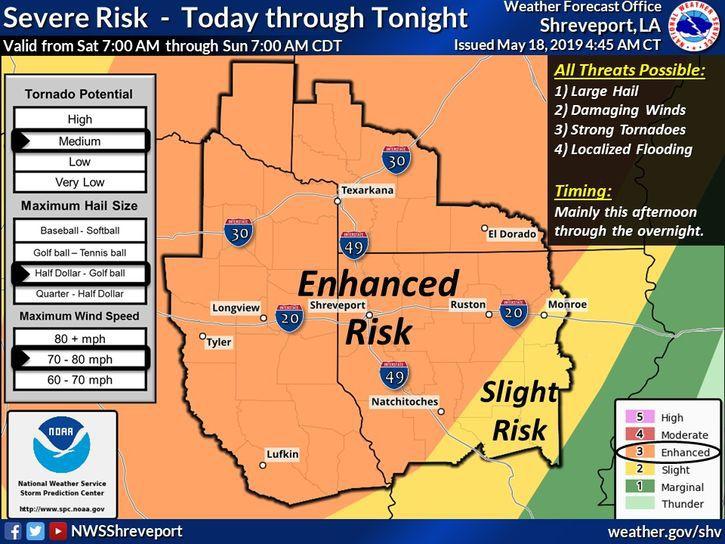 The National Weather Service said locally-heavy rain of a few inches within an hour's time could also lead to isolated minor flooding problems. The risk of severe weather is expected to diminish late Saturday as the thunderstorms shift east.
Timing was forecast to be 2 to 9 p.m. for areas west of Tatum and 5 p.m. to midnight for areas east of Tatum.
All of Panola County has been placed under an "enhanced" risk of severe weather.
Flood Warnings
The National Weather Service has also issued flood warnings for areas round the Sabine River.
Near Beckville, the NWS said the river was at moderate flooding on Saturday morning and would continue to rise to 30 feet, flooding lowland areas for the next several days.
Near Logansport, the NWS said the river was at minor flood stage and would rise to 31.5 feet by Tuesday, with severe flooding expected in Joaquin and Logansport.